Section title

Add [[links]] to articles here
...
...
...
...

Section title
What's new on Racing Games Wiki
October 3, 2008

Done with the Burnout series.
Remember, I am too busy o monitor this site. If you have a question, It is best to place a message on my Wikipedia talk page, rather than here.
August 14,2008

Finished on NFS articles.
If I get more contributors, I will make a NFS wikiproject.
August 6, 2008/Site opens

I formally open this wiki. However I'm always busy on Wikipedia, so I may need more contributors.
Helping out
To write a new article, just enter the article title in the box below.
Not sure where to start?
Adding content
Talk and more...
Check out the community portal to see what the community is working on, to give feedback or just to say hi.
Featured article
rFactor is a computer racing simulator designed with the ability to run any type of four-wheeled vehicle from street cars to open wheel cars of any era. rFactor aims to be the most accurate race simulator ever, providing advanced tyre modeling, complex aerodynamics and a 15 degrees of freedom physics engine.
rFactor is developed by Image Space Incorporated (ISI), which has been developing race simulators since the early 1990s for both commercial and military purposes. Their most recent title to use the complete engine was F1 Challenge '99-'02, released through EA Sports, although the rendering engine itself has been used for SimBin's GT Racing Series, comprising GTR - FIA GT Racing Game and GT Legends.
[[RFactor]]
Featured media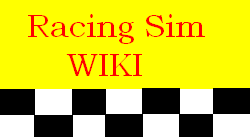 Our logo. Do not remove until I can get another one.